Crater of Diamonds State Park is located in the Southwest corner of Arkansas and is noted for the unique geological conditions, which have created a diamond field within reach from the earth's surface. It draws visitors with an open invitation and slogan of "Finders Keepers" to dig your own diamonds in its 37 acre diamond-bearing volcanic pipe field.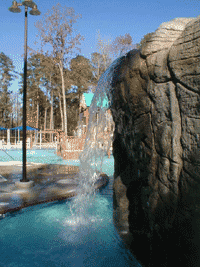 This state park draws visitors from far and wide calling on MESA for many of their design needs. MESA was responsible for the design of two separate trails, new day - use facilities, new campground, an amphitheater, expansion plan for the diamond search area, cooling shelters and a new water play park.
The concept for the new waterplay park is to provide a contrasting cooling water feature to balance the heated and dirty activity of digging for diamonds. MESA's sensitive design approach made use of existing site features and characteristics to create elements that are both inter- active and blend with the setting. Two water slides built into grade with 7 foot drops, fabricated rockwork design and techniques to simulate local outcrop pings, and subtle theming are design solutions that deliver this intent. The three foot deep with zero depth entry pool, interactive central feature with jets and sprinklers, and ADA accessibility make this feature open and enjoyable for everyone. The completed project opened in the summer of 2004.