MARK A. ROBERTSON, FASLA, LEED-AP
President
Landscape Architect, Sustainability & Horticultural Consultant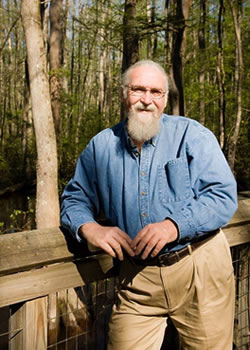 Mark A. RobertsonMr. Robertson began his career with MESA in 1986. As Principal of the firm he has instilled a sensitivity of sustainable design, conservation and education on projects the firm pursues while pursuing innovative solutions and design excellence. Mark believes strongly in an integrated design process where collaboration allows ideas to come from all participants and solutions are shared among all. He brings vision and understanding of natural systems and environments to all projects and has demonstrated an ability to incorporate these principles into various design aesthetics from very natural to formal structures from regional concepts to detailed design solutions.
Mark has considerable experience in zoological master planning and exhibit design, recreational planning and design, campus and institutional master planning, horticulture, planting design, landscape management and project management. His years of experience working as a Landscape Architect and as a Landscape Contractor provide him with a special knowledge of construction that translates into quality design that can be effectively implemented.
Throughout his career he has been an advocate to incorporate issues of sustainability, responsible design, conservation and social/environmental justice in all projects in which he has undertaken. He has demonstrated this commitment through activities in both the profession and the global community serving on numerous boards, commissions and committees.
---
EDUCATION


Master of Science in Horticulture and Plant Ecology - University of Arkansas
Bachelor of Landscape Architecture - University of Arkansas
Undergraduate Studies in Education, 1973-76, University of Central
Arkansas, Conway, Arkansas.
LeadAR – Leadership Arkansas – University of Arkansas Cooperative
Extension, Little Rock, AR 2001-03.
Living Roof Studies - Green Roofs for Healthy Cities, 2006-08.
PROFESSIONAL REGISTRATIONS


Landscape Architect, (By Uniform National Exam) State of Arkansas #146

1989-Present; State of Texas #1781, (inactive); State of Illinois #57-000980; (Inactive); State of Pennsylvania # LA002532; State of Delaware (inactive); State of Missouri #LA2005015244 (inactive);

CLARB Certification #883, 1994-Present.
Arkansas Certified Nurseryman # 143, 1990-Present.
LEED- AP, 2009
PROFESSIONAL ORGANIZATIONS


US Green Building Council

National Board of Directors, Chapter Community Director, 2010
Diversity Mentoring Initiative Working Group
Founding Member AR Chapter 2002
Past Chair AR Chapter 2005
Southeast Regional Council 2006-2009
Advisory Board AR Chapter
Diversity Committee
Advocacy Committee
Student Chapter Committee

American Horticulture Society
American Society of Landscape Architects

Roster of Visiting Evaluators for ASLA Accreditation, 1996-2002

American Institute of Architects - Allied Member
American Zoo and Aquarium Association
Association of Zoological Horticulture
American Association of Botanical Gardens & Arboreta
Council of Landscape Architectural Registration Board (CLARB)

Exam writer and grader for LARE, 1994 - 2001
COMMUNITY LEADERSHIP


Steering Committee, Arkansas Citizens Congress, 2010-11

Legislative Advocacy and Outreach Committee
Environmental Committee

Empowerment through Local Foods and Urban Agriculture - A one day symposium and strategic planning initiative with Will Allen of "Growing Power". Organizing Chair 2009-Present.
Diversity, Sustainability and Opportunity - a 3 day symposium on social equity, environmental responsibility and economic prosperity. Organizing Chair, 2009.
Professional Advisory Board, School of Architecture, University of Arkansas
Chair, Elected 2007-09

Strategic Planning Committee, Organizer, 2008-09
Executive Steering Committee, 2005-09
Member 2000-10

Arkansas Legislative Task Force on Sustainable Buildings 2005-present.

Chair 2005-06.
Authorship of several pieces of legislation or policies enacted over 6 years related to sustainable building practices.

Little Rock Sustainability Commission, Founding Member, Vice Chair 2008-10.
Little Rock Sustainable Communities Task Force, 2005-08.
Sustainable Business Network Central Arkansas, Founding Member & Board 2009-present.
Arkansas Business Leaders for a Clean Energy Economy 2009-present.
Diversity and Sustainability Alliance, Founding Member, 2009.
Bolivian Conservation Fund, Board of Directors, 2004-08.
Argenta CDC Green Building Advisory Group, 2007.
HONORS


Association of Zoo and Aquariums Top Exhibit Award 2007 -

Philadelphia Zoo, Big Cat Falls

ASLA-AR Honor Award - Pritzker Family Children's Zoo 2006
AIA Chicago - Design Excellence Award- Pritzker Family Children's Zoo
AIA Chicago - Devine Detail Award - Pritzker Family Children's Zoo
AIA Chicago - Distinguished Building Award – Brookfield Zoo, Habitat Africa 2
Chicago Athenaeum - American Architecture Award - Brookfield Zoo, Habitat Africa 2
I.D. Magazine -Design Distinction Award - Environments 2001
Landscape Contractors Association, Environmental Awareness Award - Brookfield Zoo, Habitat Africa 2, 2001
ASLA-AR Design Honor Award - Lorance Creek Natural Area 2006
ASLA-AR Design Merit Award - Brandywine Zoo Master Plan 2006
ASLA-AR Design Merit Award - Private Residence 2007
UA School of Architecture Alumni Design Award - Pritzker Family Children's Zoo 2007
ASLA - AR Design Honor Award - Native American Courtyard, Fort Smith, AR
LeadAR Achievement Medal 2003
Superintendent's Citation, Little Rock School District
Senior Scholar - Valedictorian, College of Architecture, 1988
Tau Sigma Delta Medal For Design Excellence
ASLA National Honor Award
Arkansas ASLA Design Honor Award, Native American Courtyard
President's List, 1987. Dean's List, 1985-1988
Neil Hamel Park, ASLA Scholarship, 1986
Sigma Lambda Alpha National Landscape Architecture Honor Society.
Gamma Beta Phi National Honor Society, 1987-88
LECTURES & SEMINARS


Numerous presentations since 2002 related to sustainable building practices.
"The Green Economy - A Perspective from Education, Business and Government", Moderator, Growing Arkansas Green Economy Conference, 2010.
"Local Food Access". Little Rock Sustainability Summit, 2010.
"Collaboration and Sustainable Practices", University of AR at Little Rock, 2010.
"Rainwater Harvesting" Atlantic Green Conference, Charleston, SC 2009.
"Alternative Development Practices", Atlantic Green Conference, Charleston, SC 2009.
"Urban Agriculture and Local Food Opportunities", Little Rock Sustainability Conference, Moderator, 2009.
"Little Rock's Sustainable Future", Little Rock Sustainability Conference, Moderator, 2009.
"Rain Gardens and Rainwater Harvesting: Simple Solutions with Global Impacts", Arkansas Garden Show, 2009.
"The Green Entrepreneur", University of Arkansas at Little Rock, 2008.
"Green Infrastructure", Arkansas AIA Conference, 2008.
"Beyond the Cage, the Evolution of Zoological Design", 2008.
"Scaling Up", Arkansas Arts Center, Architecture as Art Series, 2008.
"The Arts and Crafts Garden: Realizing the Garden Dream", Arkansas Garden Show, 2007.
"Historic Urban Parks and the New Millennium", Downtown Partnership, Little Rock, Arkansas, 2007.
"Park Planning and Design", Arkansas Park and Recreation Conference, 2006.
"Modeling the New Children's Zoo: Collaboration Unites Architecture, Landscape and Experience", Association of Zoos and Aquariums National Conference, Chicago, 2005.
University of Florida, 1999.
Washington State University, 1999.
UNITEC Institute of Technology, Auckland, New Zealand, 1999.
""Parks and Urban Greenspace", Universidad Privada Santa Cruz, Bolivia, 1999.
"Community Parks and Landscape Restoration", Universidad Technica del Beni, Bolivia, 1999.
University of Arizona, 1998.
"The Use of Computers in Park Design", National Recreation and Parks Association Regional Meeting, 1993.
"A Native Plant Inventory and Site Analysis for Twentieth Century Gardens in Hot Springs, Arkansas", University of Arkansas, 1991.
"Computer Applications in Landscape Design", University of Arkansas, 1990.
"The Works and Contributions of Frederick Law Olmsted - America's First Landscape Architect", University of Arkansas, 1990
"Preparing for the Arkansas Certified Nurseryman's Exam", University of Arkansas, 1990.
"Principles of Horticulture", University of Arkansas, 1991.
"Landscape Design Principles", University of Arkansas, 1991.
"Role of the Landscape Architect", University of Arkansas, 1991