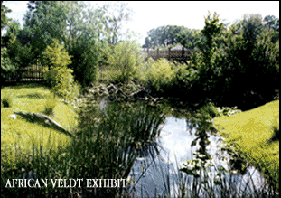 The exhibit includes a 25 foot waterfall and a recirculating stream that was added to visually connect the exhibit with the waterways through out the Zoo. The exhibit also includes a breeding facility for the marabou stork as well as a pool for flamingos and an area for many other birds native to Africa's Rift Valley.
The African Veldt exhibit includes Cheetah, Leopard, Lion, various hoof stock, African Elephants, Crocodile and other species. A boardwalk, winds around the perimeter of the veldt and provides numerous opportunities to view some of the fauna of Africa. The area is landscaped to recreate the appearance of the African Savannah.
Also included in the Phase 1 work were a new entry & parking area, the Zambezi Restaurant, a new education center, animal nursery, new elephant building, the Florida wetlands exhibit, a major primate great ape exhibit, and numerous other improvements.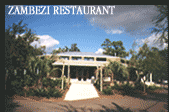 In addition a conceptual design was developed for many of the future exhibits including the Meso American Temple of a Jaguar Exhibit.